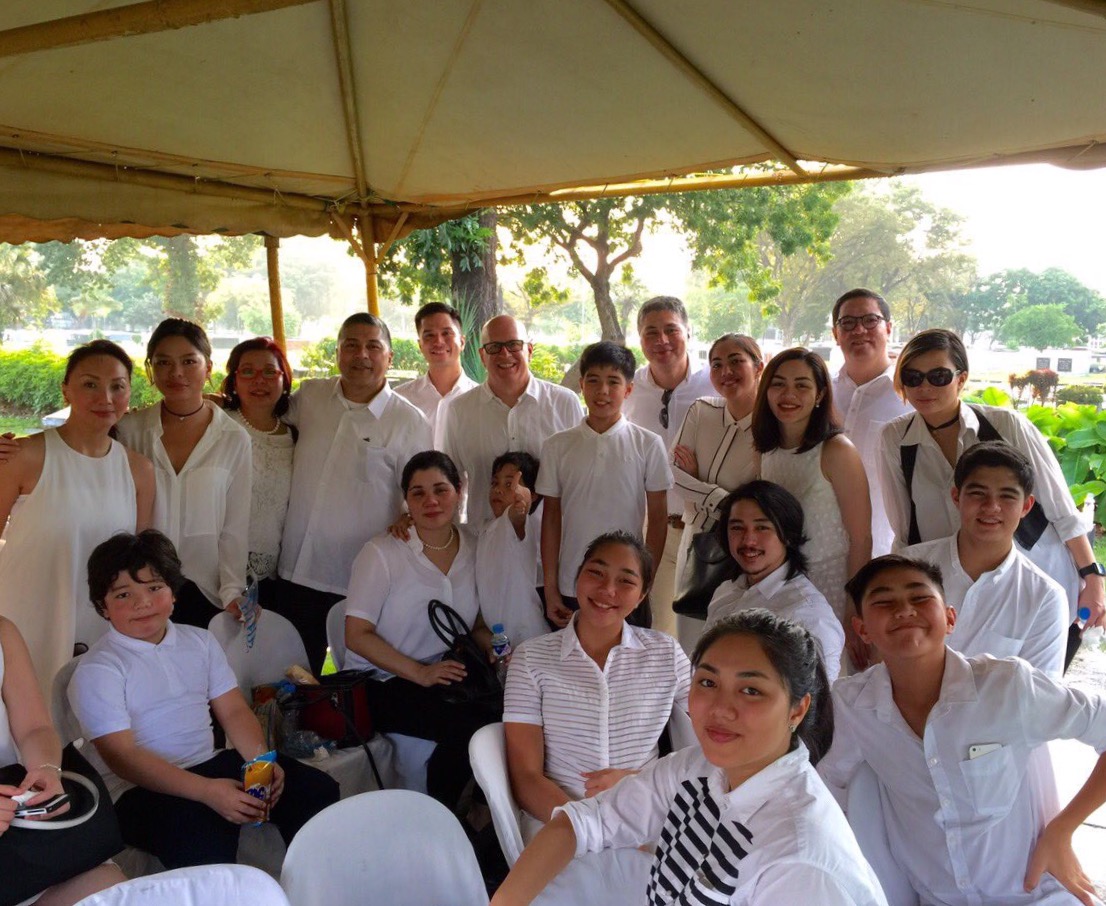 Me with the Fabregas family at the funeral.
NASHVILLE, TENNESSEE—This past weekend Deborah, William (my oldest son), and I spoke at a parenting seminar at Bethel Brentwood. During the half-day seminar, we talked about the four Es of parenting (sound familiar?) and tackled four big questions that every parent should ask themselves:
How can we 

engage

 our children's world?

How can we 

establish

 strong biblical foundations?

How can we 

equip

 our children for life?

How can we 

empower

 them to pursue God's calling?
I opened the first session with a story about a good friend of mine who recently passed away at the age of 77.
Salvador "Bomboy" Fabregas was a pillar of our church for many years. He and his wife became Christians in their late 40s. One by one his adult children came to faith, and most of his eighteen grandchildren have grown up in our church in Manila.
When we found out about his passing, I was in Nashville, so I quickly booked a flight to Manila so I could be there for the funeral.
One thing I will never forget about the funeral was hearing his grandchildren talk about their grandfather.
One grandson talked about his memories playing chess with (and always losing to) his grandfather. Another referred to his grandfather as one of his biggest fans on the soccer field. One granddaughter talked about how her grandfather was such a good listener and was always making sure he was up to date on what was going on in her life. For me, the most poignant story of all was hearing a teenage grandson tearfully explain that while all his friends complained about their obligatory visits to their aged grandparents, he absolutely looked forward to and thoroughly enjoyed every visit with his grandfather.
Pretty soon a clear pattern emerged.
This grandfather was deeply engaged in the lives of his grandchildren—all of them, individually. He didn't necessarily care about chess or soccer or high school drama—he cared about Carlos, Bea, and Daniel, and the other fifteen.
As a grandfather of two, I was blown away by the fact that my friend had eighteen grandchildren—ranging from their mid-thirties to their pre-teens—and every single one of them felt like the favorite. (Favoritism is destructive when one child or grandchild feels favored and the others feel rejected, however when all feel equally favored, favoritism is a thing of beauty.)
As parents, one of our most important jobs is to engage our children. Love what they love. Care about what they care about. Listen to what is on their minds.
It seems simple enough, but at certain stages, it can be really difficult for parents to engage their children. Maybe your son's or daughter's interests have changed to things that you know nothing about. Maybe your teenager is intentionally pushing you away. Maybe you have a new baby in the family that is taking a lot of your time and attention. Or maybe you are simply too busy at work.
Whatever season of parenting we find ourselves in, let's learn from my good friend Bomboy. Let's stay engaged with our children (and eventually our grandchildren) all the way to the end.