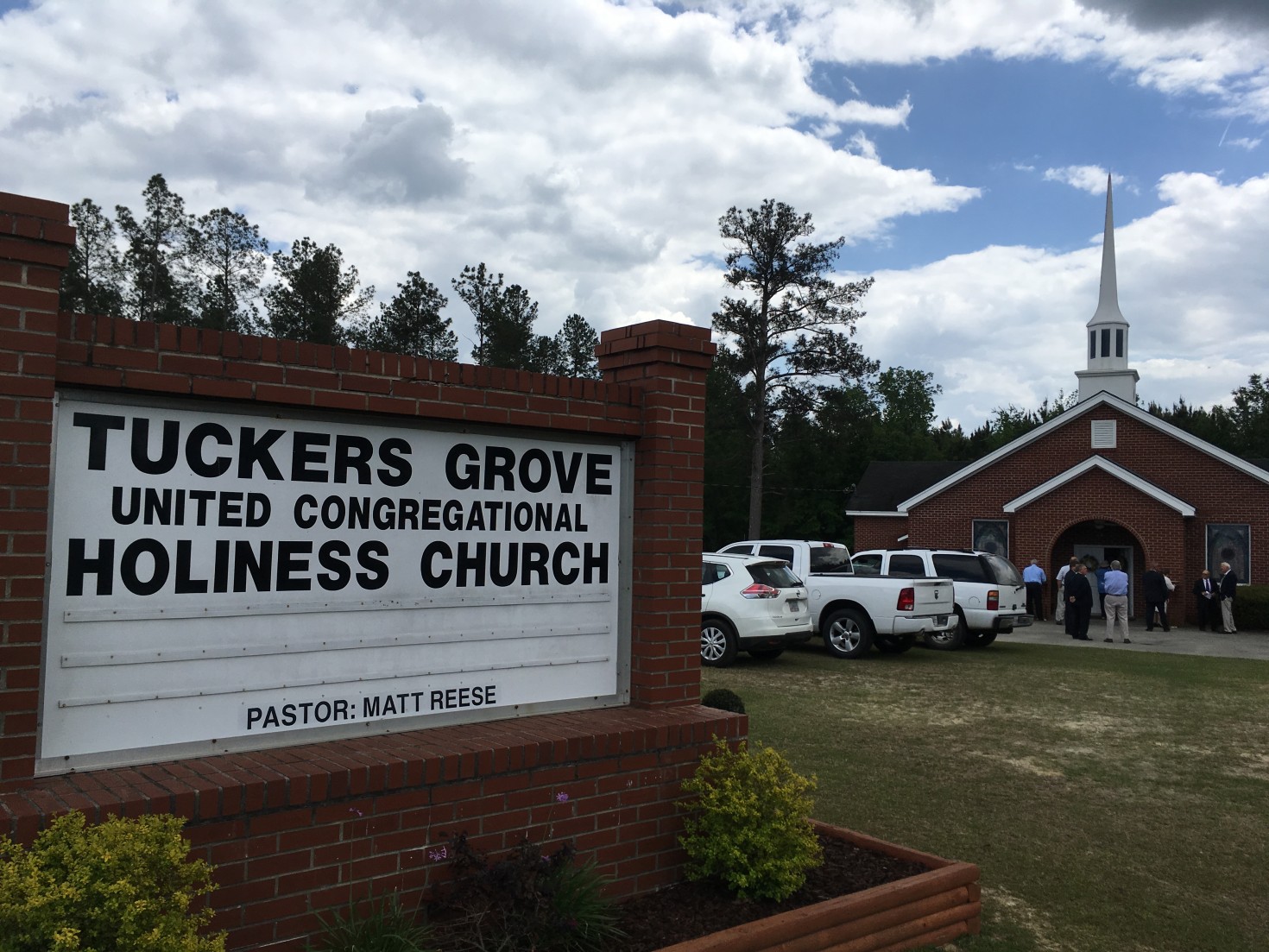 NASHVILLE, TENNESSEE—Late last night, we arrived home from the funeral of Deborah's grandmother, Sara Nell McAfee, known to her grandchildren, great-grandchildren, and great-great-grandchildren as Mama Mac. In sermons and at parenting conferences, I have often talked about Mama Mac and the godly heritage she left behind for her four children, nine grandchildren, sixteen great-grandchildren, and two great-great-grandchildren (Jo and Liam).
The funeral service was held at Tucker's Grove United Congregational Holiness Church (see picture above)—the Pentecostal church where Deborah's great grandfather was the pastor for fifty years and where Deborah's grandmother attended all her life. As a pastor, I normally speak at the funerals I attend, but at this one, I sat in the pew with my wife, adult sons, daughter-in-law, and my granddaughter, Josephine.
The funeral service was led by the new pastor of Tucker's Grove, a young preacher who had only been in this church for five years. He was brief, but he said a few words that I'll never forget. Standing in this rural Pentecostal church that was founded in 1923, the pastor said of Mama Mac and her generation: "Today, people go to the house of God. But in the past, people had an encounter with the God of the house. Lord, we need an encounter with the GOD OF THE HOUSE!!!"
As he said this, I began to think about all that Mama Mac had seen and experienced in this small brick church building during her ninety-four years on this earth. Weddings. Baptisms. Funerals. Communion. Prayer. Foot washings. Baby dedications. Healings. Signs and wonders. Church plants. Church splits. Church growth. Church decline. Church renewal. Since 1923, each generation of believers has had to have their own encounter with the God of the house. I thought about this as I looked at Deborah and reflected on the profound spiritual influence that Mama Mac had on her life. I thought about this as I looked at my adult sons, whose own spiritual lives owe much to their mother's example of fervent prayer and unwavering faith. And I thought about this as I looked at my granddaughter, Josephine, who at three is now beginning to ask questions about Jesus (she even recognized him somehow on the stained glass windows at Tucker's Grove).
As I thought about my own family, I also thought about my Every Nation church family around the world. My prayer is that after our founder generation is gone, subsequent generations will have their own encounters with God in some of the very churches we are planting and in the buildings we are building. My prayer is that my generation will not make it hard for future generations to meet Jesus and join his mission. My prayer is that, like Deborah's grandmother, we will model a vibrant faith and love for God's word and mission that inspires future generations to take the gospel to every nation in their generation.