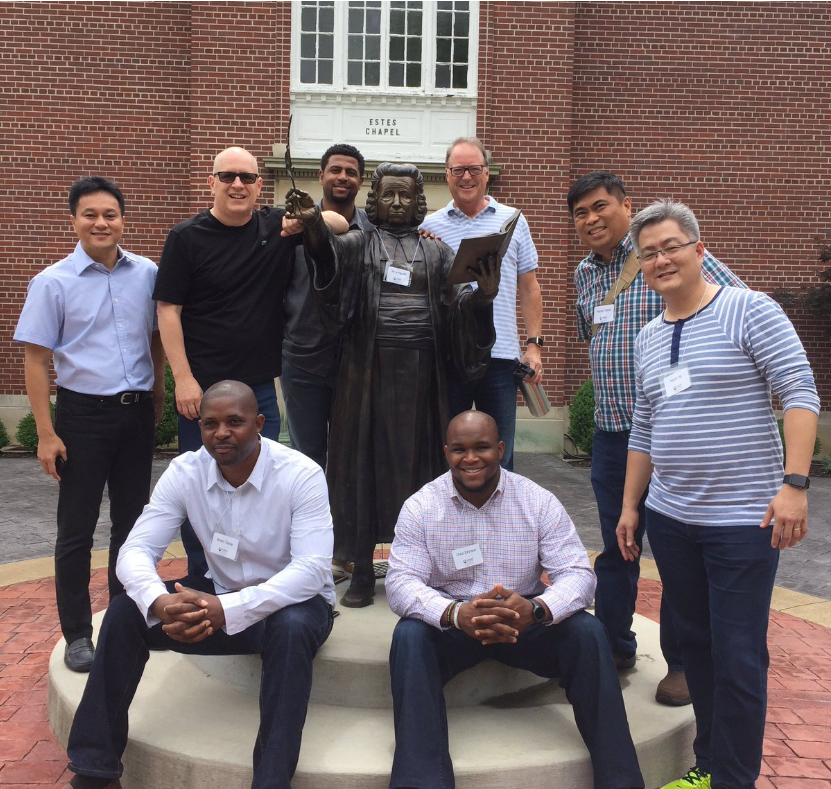 The Asbury 8 with Charles Wesley on the Asbury Seminary campus.
WILMORE, KENTUCKY—As I write, I am finishing up the first on-campus installment of a DMin (Doctor of Ministry) program at Asbury Theological Seminary in Kentucky.
I am part of a group of Every Nation pastors and campus missionaries from all over the world who over the next three years will be furthering their theological education with the goal of becoming better ministers and better leaders.
It's been a long time since I was in school, and I am happy to be back in the classroom. I have learned a lot since the program started. Here are a few initial impressions from my time here.
The Value of Education
Returning to school after so many years has reminded me that learning is hard work. Plowing through long reading lists, engaging with new ideas, articulating my thoughts in formal academic writing—this is all hard work. But it is worthwhile work. Though I've always been a reader and have been blogging and writing for many years, this DMin program has challenged me to flex new intellectual muscles. How so? Because I am being forced to read books that I would have never chosen on my own. And I am reading these new books and engaging these new ideas with other Every Nation (and non-Every Nation) pastors from around the world. Self-guided learning is good, but learning in community is even better.
The Power of Preaching
One of the central focuses of our DMin program is preaching. This seems appropriate since Asbury Theological Seminary was named after the great Methodist preacher Francis Asbury (1745–1816). Responding to John Wesley's call to the American mission field, English-born Asbury spent most of his adult life as an itinerant preacher in the American colonies and even in the "Western" frontiers of Tennessee and Kentucky. Riding from state to state and town to town on horseback, Asbury preached over 16,500 sermons in his forty-five-year career. (That's an average of one sermon every single day for forty-five years!) During that time (1771–1816), the Methodist movement in America grew from 600 to 200,000. Preaching the gospel is powerful—both then and now.
The Role of Institutions
As movements grow, leaders will always be faced with the question of continuity. How can we sustain movements for future generations? There are many ways to answer this question, but one often underrated solution to the problem of continuity is investing in institutions that will carry on the mission and vision of the founders long after they are gone. Look at Asbury Theological Seminary. In 2016, it is still promoting the central vision of men like Wesley and Asbury who first came to America as missionaries over 200 years ago. Though the Methodist movement started with revival, it was sustained by institutions (churches and seminaries) that were able to train future leaders of the movement.
It is my prayer that in the coming years we will be able to grow and expand our own educational institutions (Every Nation Schools of Ministry) so that we can continue to train up next-generation leaders who will carry on the mission to reach every nation and every campus—long after the founders are gone.